OnLine Photo Search Contest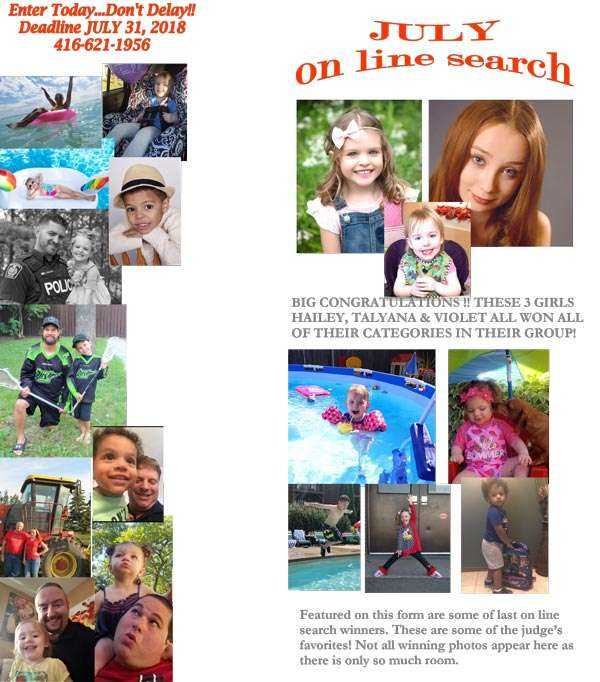 | | |
| --- | --- |
| Category | Ages |
| Girls | 0-11 months |
| Girls | 12-23 months |
| Girls | 2-3 years |
| Girls | 4-6 years |
| Girls | 7-9 years |
| Pre-Teen Girls | 10-12 years |
| Teen Girls | 13-19 years |
| Boys | 0-23 months |
| Boys | 2-4 years |
| Boys | 5+ |
| Adults Girls & Boys | 20+ |
Payment can be made by bank transfer, or paypal by the deadline which is midnight July 31st  2018  and awards will be announced shortly after. You will be notified by email or phone – we have had many out of province winners, so this is open to all  !
Boys & Girls –  win trophies and be scouted for t.v.commercials, catalogs, magazines like many of our previous on line entrants. Allison was scouted at one of the pageants she as discovered in the on line search and went on to do commercials- Austin has not been in a pageant yet but was in the on line search and is now signed by agent, went on his first audition and landed the commercial all from being in the on line search !!
If you are from out of province or out of country you can enter the on line search and be a winner too. You do not have to attend one of the pageants to enter the on line search. The idea of On Line search is to spend some time with your child and be creative and capture some memories. Pictures can be professional if you have them but they  can be home shots too – Parents  with little ones, time passes too quickly and before you know it , you will be saying " I wish I took more pictures" Parents  with older ones- what a great bonding time, to come up with outfits, ideas and capture them on camera . Years from now you will be thanking us, as many of our previous contestants have told us.
It is Easy to Enter…Next Photosearch starts NOW and Deadline is
 midnight July 31st, 2018

, then the pics go to photographers, agents and scouts for judging.   You will be contacted by phone or email  for your results, it will then be your responsibility to make arrangements to pick up your award or have it shipped . We have had many winners from the West Coast to the East Coast and all the way to the North Pole  (well at least as far as Inuvik)
NEW CATEGORIES for 2018  On Line Search $20.oo for each category * Do all 4 for $50.00 This time we are looking for a variety of facial expressions which is what you need to be in commercials.  
1. CANADA DAY/ MEMORIAL DAY : PICTURE OF YOU BEING PATRIOTIC IN YOUR RED & WHITE CANADA DAY ATTIRE OR YOUR RED/WHITE & BLUE USA ATTIRE
2.SHADES OF SUMMER : Picture of you with your cool shades, your funny shades, your glamorous sunglasses.
3.JULY IS OFFICIALLY BLUEBERRY MONTH : Picture of you picking  or eating blueberries or making or eating blueberry pie . Or just wearing the color blue to celebrate blueberry month
4. Christmas in July : celebrating Christmas in july, santa hat, decorations, presents !
 PRIZE  LIST:
Winner of  any One of the categories 1-4                                                                                                     You will be  presented with a rhinestone  tiara for girls/medallion  boys
Winner of any  2 of the  4  categories                                                                                                    You will win 3″rhinestone tiara  & pageant jewllery  (girls)  trophy & medallion (boys)
 Winner of any 3 of the 4 categories will win:                                                                                            5 inch  rhinestone  tiara for girls !  larger trophy  for boys
Winner of  all  4  will receive                                                                                                                             replica of Miss Universe   rhinestone tiara for GIRLS    /Large trophy, crown & medallion   (BOYS)
You can submit your photo by email to missallcanadian@msn.com  and  fill out the online form below, or you can mail the original photo to us. Photos will be kept on file for future use. Photos can be home shots or professional. They are not being judged on the quality of the picture but more on how the person comes across on paper. Payment can be made by paypal or  bank etransfer to missallcanadian@msn.com  or  ONLY if you are attending the pageant you can pay at the pageant by cash.
Pictures will be kept on file for future paid bookings for tv commercials like many of our on line contestants have done. Mr KEYSHAWN who was scouted by well known Toronto agent just won all his categories at the March  on Line Search!!  Miss Angel in the 19+ division won all categories and won a 10″ tiara and  $100.00 Cash. double poster trophy!! Miss Nevaeh won all  in the September contest and won $100.00 Cash and 10″ tiara and Keyshawn won all  in the October pageant and won $100.00 cash and Superhero crown!  April & Daniella both won all in the last on line search ! YOU MIGHT BE NEXT. We have also had winners from Manitoba,  North West Territories, Nova Scotia, Alberta, British Columbia, Sask and P.E.I.   We have sent out their trophies and they have kindly sent us back photos of themselves with their winning trophies, so don't hesitate to enter no matter where you live! So wherever you are from you are welcome to enter Submit your photo with the online form below, or CONTACT  JOANNE at missallcanadian@ msn.com
Contest Rules & Regulations
Judging will be conducted fairly by a panel of All Canadian Judges — Judges decisions are final.
Parent(s) or Legal Guardian(s) of a contest winner authorize Miss All Canadian to publish photo, first name of winner on web site or any other publication once pictures have been entered.
Entries must be received by the deadline or contact Miss Joanne at missallcanadian@msn.com
Awards will be  presented at the following All Canadian Event or you are responsible for picking up your award or making arrangements to receive it.( eg. Shipping and handling)