Prairie Pageants – REGINA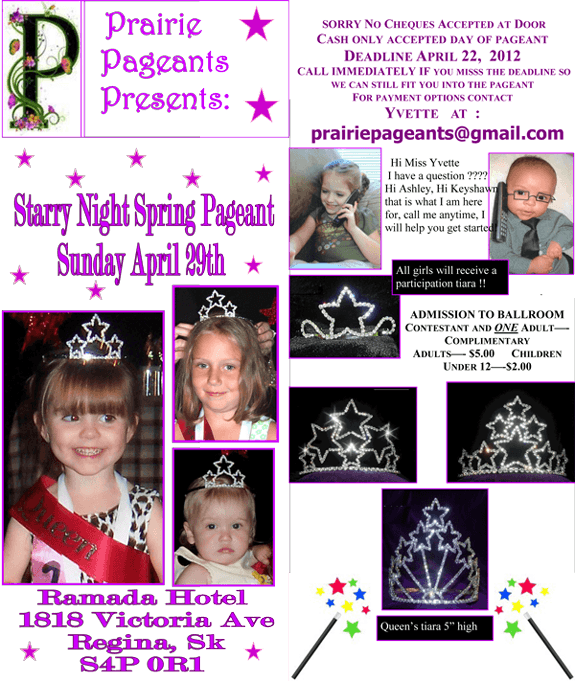 WHEN: Sunday, April 29, 2012
WHERE: Ramada Hotel, 1818 Victoria Avenue, Regina, Saskatchewan, S4P 0R1
Starry Night Spring Pageants is under the umbrella of Miss All Canadian. You can contact the District Director Yvette at p

rairiepageants@gmail.com

  for payment options you can pay by paypal or bank transfer to Yvette's email address or contact Yvette for payment by cheque or cash 
 at 306-502-3039                                                                             
You can also  email the Canadian director Joanne at missallcanadian@msn.com or call 416-621-1956
[map w="500″ h="250″ z="13″ marker="yes" address="1818 Victoria Avenue, Regina, Saskatchewan, S4P 0R1″]
The All Canadian Pageant system gives every contestant a chance to shine on stage. The idea is to come out for fun meet friends, while increasing your confidence and developing an outgoing personality. Many of our contestants have done T.V. commercials, and paid print work just by stepping on our stage. After entering this preliminary you will win your Main entry fee to the International Grand Finals where you may be scouted like many of our previous contestants for paid tv commercial work.
** Please arrive 30 minutes ahead of the times listed below to give you enough time to register and be ready to step on stage for the time below- Please understand that although we try our best to be on time , depending on how many are in each age division may take longer or shorter than expected, please allow for starting right on time and do be ready for time listed- Thank you for your patience and understanding.
BABY MAIN CONTEST STAGE TIMES
Baby Girls …. 0-23 mths …………….. 11:00 am
Baby Boys …. 0-3 years ………………. 11:00 am
Little Girls ……. 2-3 years ……………. 11:00 am
FORMAT: Each child will go on stage with one adult. Contestant may wear any type of dressy clothing preferably their Sunday best. MC will bring you on stage in a group line up, followed by your own special time with the judges!
KIDS AND TEENS MAIN CONTEST
Girls ……. 4-6 yrs ……….. 1:00pm
Boys ……. 4-9 yrs ………….1:00 pm
Girls ……. 7-9 yrs …………. 1:00 pm
Girls ……. 10-12 yrs ……….. 1:00pm
Miss Teen..13 & Over……….1:00 pm
FORMAT:Â Dress to Impress/Your Sunday Best!. The MC will bring each age group on stage for a group line up, then followed by individual introductions, ages 4 + will introduce themselves by telling us name, age , hobbies, interests etc.
Just be yourself ,smile and have lots of fun because just stepping on our stage makes you a winner and you should be proud of yourself ! Remember to smile and just be yourself, and…It's nice to be important but it's more important to be nice!!
ALL CONTESTANTS: Arrive at least 30 minutes before stage time, you must confirm your spot at our registration table and receive your contestant number. If you are in photogenic, or fun photo you will submit your photos at the registration table to be judged. Photos returned following awards, please make sure to pick them up after your awards.

THIS IS THE FORM FOR REGINA, SASKATCHEWAN

[gravityform id="28″ name="PRAIRIE PAGEANT – REGINA" title="false"]